Arcader slot is a bombastic arcade-themed online slot with five reels, five rows and 15 paylines. With an amazing set of Arcader free spins and bonus features, this game is a must-play for anyone looking for a true slots experience.
Arcader Overview
Slots experts Thunderkick have delivered Arcader slot – an ultra-innovative and eclectic online slot machine based on the long-gone days of the arcade parlor. For a moment in history, this is where a lot of the fun out there took place before moving to another place. People used to hang out, have soft drinks, play arcade games and fall in love. And we are in love with this game that plays on the visual code that is remnant of that time. And Thunderkick have done justice to that era with a magnificent rendition packed into five reels, two rows and 15 paylines. All this seems to be enough for a stellar gambling experience, but there is more. Arcader slot has a great Return to Player and bonus features that will give any type of player something to brag about after having played this game.
Arcader Slot Gameplay
This is one of the fastest slots out there. The reels just spin with a zipping speed. The designers have been clever enough not to make the reels spin endlessly. Once you hit the spin button, they spin for an interval that builds us anticipation and stops in the right moment – just a right dose of excitement for an overall excellent gameplay. And because of that, this game is best played on a smaller coin if you want to last longer. The paylines are fixed, so you need not worry about configuring that detail, and all you should really worry about is to set up the coin value and admittedly, select the auto play option for 25 spins or more. This way you will ensure that you play longer and give yourself a chance for making gains even though they will be smaller in size on a low bet. Of course, you can increase the wager any time you want.
Game Design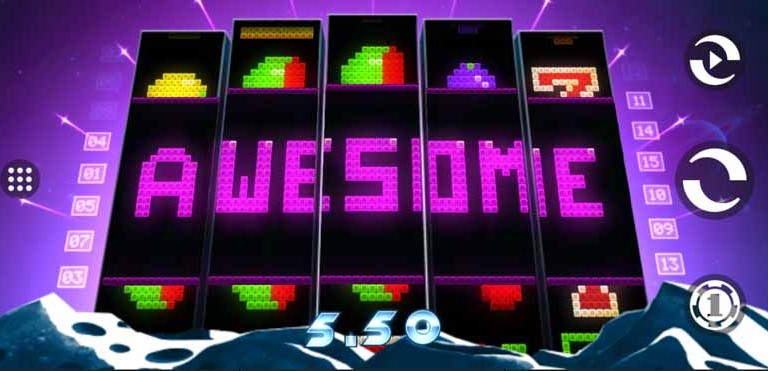 Arcader slots has an ingenious design. The symbols are pixelated and the pixels emit the type of light that emanates from an arcade screen. What is more, the reels are elongated and appear like loudspeakers. This is fitting to the musical score, which is an amazing composition that incorporates arcade elements with a beautiful synth solo. Sounds like straight out of an 80s movie. We dig it. The symbols of Arcader slot are also pixelated renditions of the classical slots symbols – fruits, mostly, and the BAR and Lucky 7 symbols. The shapes can be made out with ease, yet the arcade style looks are completely part of the entire vibe that Arcader slot shares with the players. The background is actually very interesting even though it is simple. In the front there are what appears to be Moon rocks. This is a nod to the arcade game Moon Patrol which used to be one of the favourites of that time. The background behind the reel-set is a starry sky which hints at Space Invaders.
Arcader Slot Symbols
We mentioned the basic symbols, which are those that are commonly found in classic slot machines. The special symbols are quite few which points to the fact that Arcader slot is a more engaging game than the usual. The Wild symbol is the letter W enveloped in a blue square. This symbol substitutes for all other symbols except for the three special ones: the bonus, the mystery and the expander symbols.
The Expander is the symbol that reminds most closely to the elevator button. It has two triangles – one pointing up and the other pointing down, enveloped in a teal square. When the Expander symbol lands in a reel, it expands throughout it and boosts the other symbol that represents the best possible payline.
The Bonus symbol is a green square with the letter B inside. This symbol generates the Arcader Free Spins Bonus. Five of these symbols equal 9 spins plus a x9 multiplier. Four equal also 9 Free Spins, yet with a smaller multiplier of x3. And 3 Bonus symbols bring again 9 Free Spins but with only x1. Overall, this Arcader bonus feature is amazing because in every single instance the player gets 9 Free Spins which is rare to say the least.
An additional bonus feature attached to the Bonus symbol is when you land three of these during the Free Spins. This brings about the bonus game which reveals additional multipliers.
Arcader Bonus Features
The Sticky Wild symbol is represented by a W in a neon green box and substitutes the symbols that are brought about during the bonus game. The Mystery symbol generates a single mystery game and a multiplier of x6, x2 and x1 depending on the instance of appearance, which is respective to five, four and three like symbols. The Mystery Game is generated by three like symbols and this is where the regular symbols appear on the screen, plus a few X-marks. These are shuffled around and covered for you to click and reveal a symbol that generates coin prizes. If you hit the X-mark the game stops but you get to keep the coins. The highest paying symbol in this instance is the purple diamond. A single diamond on a multiplier of x6 pays 54 coins; multiplier of x2 pays 18 and x1 pays 9 coins. These additional bonus games are another reason why Arcader slot is an amazing online slots game.
Arcader RTP
The Return to Player of Arcader slots is a comfortable and rewarding 96.10%. This is actually on the higher end of Return to Player probabilities found in online slots games because most of the time that number is below 95.00%.
Game Review
Enough has been said about Arcader slots and it is time to play the game and get a feel for a true slots-arcade vibe. This game is available in most online casinos, but don't look any further, because you can play it right here on Secret Slots.
Register now and claim Arcader free spins plus other prizes as part of the online promotions package.
Slot Details
Software

Thunderkick

Paylines

15

Reels

5

Min Coins Per Line

0.20

Max Coins Per Line

100.00

Jackpot

x20

RTP

96.10%

Free Spins

Yes