Big Money Slingo Free Spins
Let's bid a warm welcome to Big Money Slingo, the latest member in the slingo family and one that is a rebel with a twist. The top Big Money Slingo payout is a whopping £100,000. The game has six stages and each one requires a different buy in. We'll say few words about Big Money Slingo free spins, what it means for the game and how you could get some.
Big Money Slingo Overview
For those who have not become familiar with slingo just yet, we should mention that the game gets its name from the fusion of slots and bingo. Yes, slingo combines the best of both games. From slots it takes the reel and the joker (wild symbol); those who have played bingo will recognize the style of play and that the winnings are made when you connect a horizontal, vertical or diagonal line of numbers.
In Big Money Slingo and pretty much any other slingo game the gameplay is automatized and you need not worry about marking numbers. Hitting the spin button and selecting which fields on the grid should be replaced by the joker is all that needs to be done. The Big Money Slingo free spins come in the game at random, sometimes just when you need it, but there is another way to get free spins.
How to Play Big Money Slingo
Jokers Hamlet – £0.50
Golden Fields – £1.00
Royal Forest – £2.00
Smugglers Cove – £3.00
Diamond Peak – £5.00
Lucky Gulch – £10.00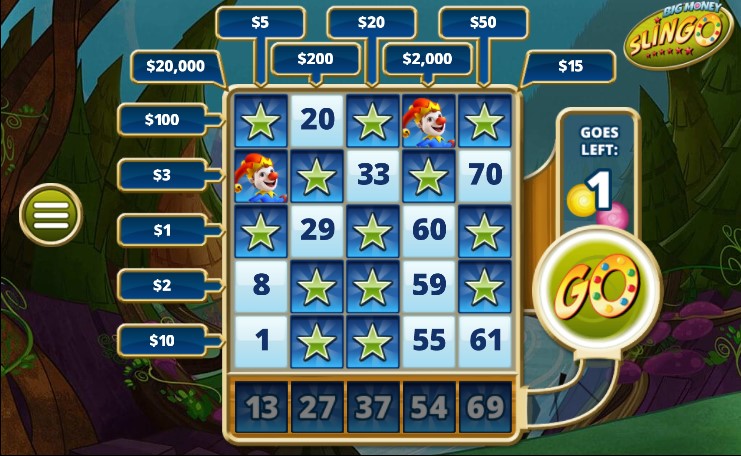 The difference between Big Money Slingo and the other slingo variants is that you start this game with four jokers, which are the wild symbol, and six spins, instead of the usual 11. This twist to the game brings bigger winnings, regardless of which room or world you choose to play in. Besides the joker and the numbers, Big Money Slingo will have a Free Go symbol pop out occasionally, as well as those pesky blockers every once in a while.
In The Lucky Gulch room, where the wager is £10.00, and the game sometimes starts with two jokers and sometimes with four. The in this room have become much lower, because, well, not everyone could win the top prize of £100,000. Those who are feeling lucky for the day should try this room where the smallest prize is £5.00 and the second up is £10.00 which would bring you back the wager.
Big Money Slingo Free Spins
The in-game free spins are generated at random intervals and there is nothing that can be done to trigger more of these. That's how the game works, and pretty much any slingo game that has a free spins feature. To get free spins for Big Money Slingo or any other slingo game, look out for welcome packages that give free spins. Secret Slots has free play money on your deposit for new players, while regular players receive free spins notifications, and sometimes these can be used on slingo games.
Claim your Secret Slots welcome bonus and spin to win on the Big Money Slingo game.
Slot Details
Software

Pariplay

Paylines

0

Reels

0

Min Coins Per Line

0.50

Max Coins Per Line

10

Jackpot

£100,000

RTP

87.27%

Free Spins

Yes