Elvis The King Lives Tips
We don't need to spend a lot of words to explain who Elvis the King is, or why WMS Gaming decided to develop a game based on the story of the, probably, most famous musician in history. Millions find inspiration and a shelter in Elvis's music, and if you're looking for a massive win on this WMS game based on his successful story, then perhaps our Elvis The King Lives tips can help you with that and if you wish to know more about this game, and all aspects of its gameplay and more, we also made a full and thorough review of Elvis The King Lives slot.
Elvis The King Lives Tips – Basics
This is a game with a unique layout and a very intriguing grid design, there is a total of 11 reels, more than what you'll find in most other slot games, so if you're looking for something different and truly refreshing, we have to recommend this game to you. That would be the first of our Elvis the King Lives tips – by all means, give this great game a try, you will definitely not regret it. The first eight reels are on the left, whereas the last three are on the right, and the three right reels are the only full-size reels, the remaining feature fewer symbols.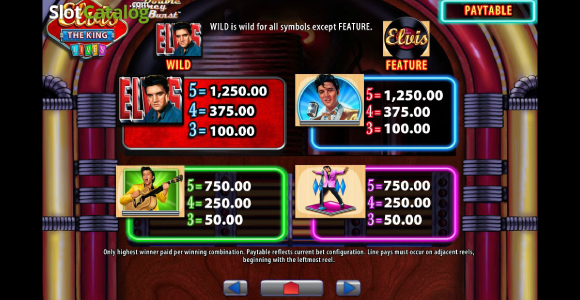 80 Paylines With 40 Coins
This game has 80 paylines, again more than what most other slots have to offer and one coin here covers two paylines, so you can play this game with a minimum of just 40p, as there are 80p. The minimum coin value is a penny, but you can wager up to £5 per coin, which would set the maximum wager at £200.
There are players who are comfortable with a higher stake and can afford to bet as much as £200 per slot. However, you should remember that you can play several spins in one minute, so it is possible to wager through large sums of money in a relatively short amount of time. You need to make sure that you can sustain a particular bet level before deciding how much you would wager per game.
Wager Wisely
The most important Elvis The King Lives Tips have to do with the wagering level, but that's the case with most slots, as that is the only decision that the player can make – how much they are going to wager, everything else comes down to luck and nobody can predict the exact outcome of a single spin, or even a session.
The RTP is the only solid and stable figure that we have, and even though it cannot serve as a basis for predictions since it is calculated over an enormously large number of spins, it is still a good parameter that tells us how favourable a game is. In the case of Elvis The King Lives slot, the RTP rate is above 96%, it is 96.09% to be more precise, which places this game in the upper half when it comes to RTP. The game is available at Secret Slots, so there's no reason to delay it any longer, sign up and start playing right now!
Slot Details
Software

WMS Gaming

Paylines

80

Reels

5

Min Coins Per Line

0.01

Max Coins Per Line

200

Jackpot

x5.5

RTP

96.09%

Free Spins

Yes