Sparks slot is one of NetEnt's most exciting and most popular slots. The game is bright and flashing, in one word, it really sparks. If you are interested in this game and you'd like to know more about its general and specific features, check our Sparks review. The return to player percentage and its importance are often underestimated, but this is a very vital aspect of every game. The Sparks RTP percentage has been published by NetEnt, but the figure alone wouldn't mean anything to you, if you're not familiar with the concept of RTP and what it stands for.
Sparks Basic Features
Sparks slot features five reels, three rows and 20 paylines. While this game resembles other NetEnt titles when it comes to the control panel and the available buttons and settings, it has its own and unique characteristics when it comes to symbols, bonus features and other game specifics.
One of the key features of Sparks slots is the option to activate both ways payouts. Typically, most slots feature paylines that can be activated only if the winning combination features symbols arranged from the leftmost towards the rightmost reel, but if the win both ways option is activated, then a payout can occur even if the symbols are aligned from the rightmost towards the leftmost reel.
This options significantly boosts your winning chances, but, on the other hand, the winning payouts are significantly higher when the paylines pay only left to right. This option has a bearing on the Sparks RTP, as the game has a varying RTP percentage.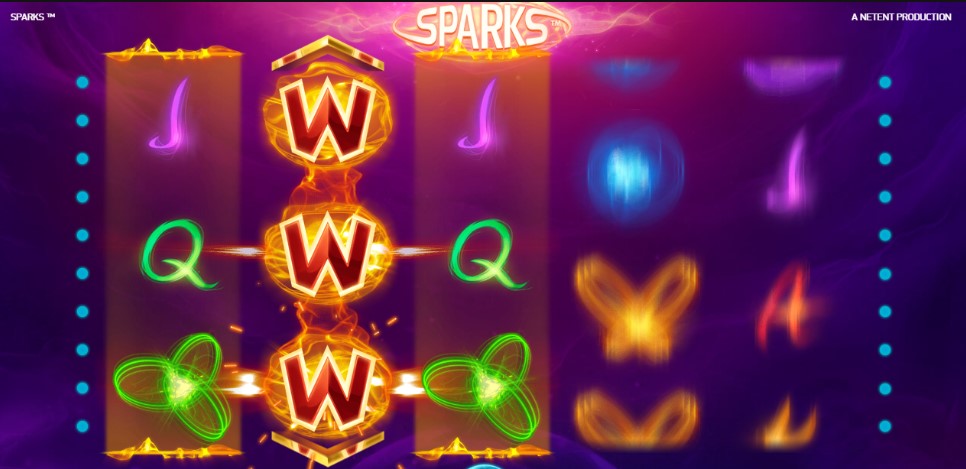 Importance of RTP
The RTP represents the theoretical return rate of every game, it shows how much, in the long run, the operator returns to its players, i.e. how much of the wagered funds are paid back as winnings. So, if we minus the RTP percentage from 100%, we would get the house edge, i.e. the profit margin.
We have to note that this percentage is only theoretical, and it is calculated on the basis of an incredible large number of spins, so that the percentage would be completely accurate. The fewer spins you play, the larger the variations in the Sparks RTP would be. In fact, that stands for any slot game, not just Sparks.
RTP percentages of online slots are usually above 90%, while 95% is considered to be pretty much an average figure for most games. Anything above 95% is quite good, whereas if a game has an RTP percentage above 96%, then we're talking of a quite rewarding game. Only few games have an RTP percentage above 97%.
Sparks RTP – Minor Variations, High Figure
The Sparks RTP, as we mentioned is variable, it can grow from 96.54% up to 96.56%, depending on whether you've selected to toggle the win both ways option on or off. As you can see, this game has a rather high RTP percentage, not just above 96%, but also above 96.50%. The RTP, in addition to the game's high degree of playability, is a strong enough reason for you to try your luck on Sparks slots at Secret Slots.
Slot Details
Software

NetEnt

Paylines

20

Reels

5

Min Coins Per Line

1

Max Coins Per Line

10

Jackpot

200

RTP

96.54

Free Spins

Yes